still from Harry Potter and the Philosopher's Stone (2001)
Earlier in January I was in London for a few days. On a Thursday morning we went to King's Cross station in search for the famous Platform 9 and 3/4. This platform is, as you might know, the only place to board the steam train to Hogwarts. It's also one of the many entrances to a wizarding world that is very good at disguising itself in plain Muggle sights.


These secret entryways are charming illustrations of the reason why I'm drawn to psychogeography and urban-observation to begin with . I like to look out for "hidden" details, meanings, and possibilities in the urban environment. The idea that behind every dirty brick wall there could (literally) be an entire hidden magical world entertains me profoundly.


We checked into platform 9 with our Oyster cards and walked between platforms 9 and 10 to look for this specific pillar as depicted in the film scenes. There is however no such specific place. After some wandering, a station employee noticed us and asked if we were looking for Harry Potter. He then directed us out of the platforms and toward a brick wall on one side of the station. There was an installation on the wall and a group of tourists lined up to have their pictures taken with it. The scene looked like this:
There were, in fact, two other employees tasked with handling the tourists. One of them was taking 'official' photos that can later be purchased at the Harry Potter Shop some 20 meters away. The other one was readying Hogwarts scarves for tourists to borrow and take pictures with. The scarves come in colours of each of the 4 Hogwarts houses. If you wish to, he would also
hold up one end of the scarf
and shake it up and down to make your picture looks like you're
in motion
.
So the place is made touristy and campish and it's perfectly reasonable. It's easy to understand why they would like to direct tourists off the platforms and direct tourists' money into Harry Potter's pockets. An observer should notice, however, that this location for photoshoot is NOT the real entrance to Platform 9 and 3/4. It is at an irrelevant location in the station's floor plan. It is physically manufactured to emulate the real deal, while the real entrance remains between the actual walls between Platform 9 and 10 (as depicted in the Harry Potter books and movies). If I were committed to truly experience a Harry Potter narrative, then instead of taking photos with a merchandised scarf, my preferred course of action should be running full force at a wall between platforms 9 and 10, and upon impact breaking most of my bones. But perhaps that's taking this discussion into the realm of psychotic-geography.
Anyways the discussion is in what-is-real and what-is-not. Can something imaginary be more real than something-else imaginary? Serialised fiction often have the notion of 'canon', the idea is that some imaginary stories are true within that imaginary world, while some of them are not. When that imaginary world intersects with real physicality, such as in the case of King's Cross station, the boundary between realness and falseness becomes even more so contested. Indeed, it is in these contested sites that we're most likely to find some form of entrance to a real magical world: the mystery of the human psyche.
--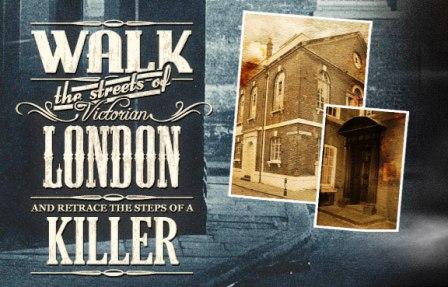 www.jack-the-ripper-tour.com
During our short stay in London I couldn't make it to Whitechapel to walk through Jack the Ripper's murder trails. It's a huge shame. Jack the Ripper is a definitive psychogeography cliché, the Ripper story had flirted with facts and fiction for over a century and it is the perfect model of how one real/imaginary story can interact with places. It'll be the first thing I visit the next time I go. "We'll do it next time" is my personal definitive cliché. This is only an inside joke because I'm an inside joke IS IT FUNNY YET IS IT F0UNNY YET